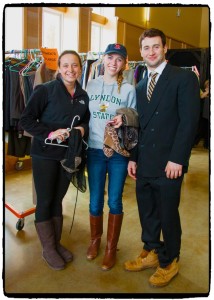 LYNDONVILLE — It's an age-old problem for people entering the workforce. Without a job, how can you afford a suit? But without a suit, how can you get a job?
To help solve this dilemma, Lyndon State College Career Services, in coordination with the Center for Rural Entrepreneurship, is holding the 3rd annual "Dressed for Success" event Thursday, March 12 from 12 p.m. to 4 p.m.
The goal of the project is to provide a free business-ready outfit to each junior and senior who attends the event. These clothes become a foundation for the student's professional wardrobe and may be worn to interviews, presentations, internships, and in other professional circumstances. The needs of juniors and seniors will be prioritized but all LSC students are welcome to participate.
All merchandise will be received by donation. The group seeks donations of suits, sport coats and blazers, jackets, overcoats and dress coats, dress shirts and blouses, trousers and slacks, skirts and dresses, and shoes. The group also seeks other relevant professional attire and accessories such as scarves, ties, belts, costume jewelry, briefcases, portfolios and attaché cases. Clothing should be clean and gently worn.
Moore's Dry Cleaners in Newport will be a drop off point for anyone wishing to donate something for the cause.
The event will be held in the college's Moore Community Room/ASAC 100, and is a component of the Lyndon's "ticket to commencement" activities.
Donations may also be dropped off through March 11 at the ASAC reception desk Monday through Friday from 8 a.m. to 4 p.m. Additional drop-off locations are Palmer Brothers Cleaners in St. Johnsbury.
JCPenney is lending clothing racks and hangers. Shear Sensations will be offering trims for men and makeup/hairstyle tips for women. Lorraine Brown, a tailor from Fruit of Her Hands, will be on hand to measure collar, sleeve and inseam measurements.
A Vermont Department of Labor representative will also share tips on interviewing, résumé writing and professional dress. Merchandise remaining after the event will be donated to NEK Youth Services and H.O.P.E.