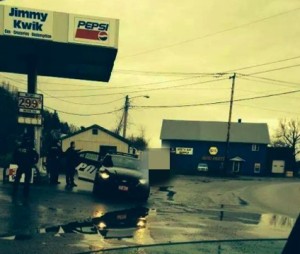 NEWPORT — Many stores have signs out front that say "No shoes, no shirt, no service." Well, Jimmy Kwik Store in Newport might soon be putting up a sign saying, "Clothing mandatory."
On Wednesday, at around 1:30 p.m., a man walked into the local convenience store wearing nothing at all.
A store employee who was working at the time of the incident told Newport Dispatch News that the naked man walked in and headed for the bathroom.
"He just walked inside, and went straight to the bathroom," the employee said.
The employee wished to remain anonymous, but went on to say that the individual didn't say anything, and that there were no customers at the store during the incident.
Newport Police declined to comment, stating only that there would be no press release issued, however, they confirmed that they were called out to Jimmy Kwik Store at around 1:30 p.m.
When asked if anyone was arrested during the incident, Newport Police said that there was no arrest made.