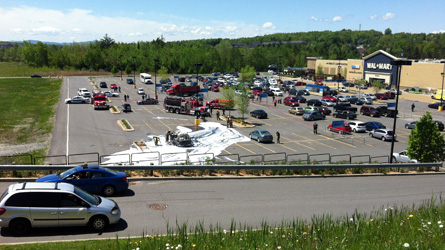 MAGOG — A 60-year-old man suffered burns on nearly 25 percent of his body after his van exploded on Thursday in the parking lot of the Magog Walmart. A woman who was near the explosion also suffered a leg injury, and four other cars were damaged as a result of the incident.
The blast occurred just before noon, May 29, and was powerful enough to be heard from as far away as downtown Magog.
After the explosion, smoke was visible from afar as firefighters arrived on the scene, with the van completely engulfed in flames. Magog police are investigating the cause of the explosion.
Firefighters found two propane tanks in the vehicle, and a witness is saying that they heard two or three explosions as the man was seen exiting the van from the passenger side door after the first explosion.
The victim was transported to the burn unit at the CHUS Hotel-Dieu Pavilion in Sherbrooke. His injuries are said to be non-life-threatening.
"He was conscious, with first and second degree burns," said Alain Roy, chief of operations at Ambulance Estrie. "For the circumstances, it could have been much worse than that."
The fire was quickly contained.