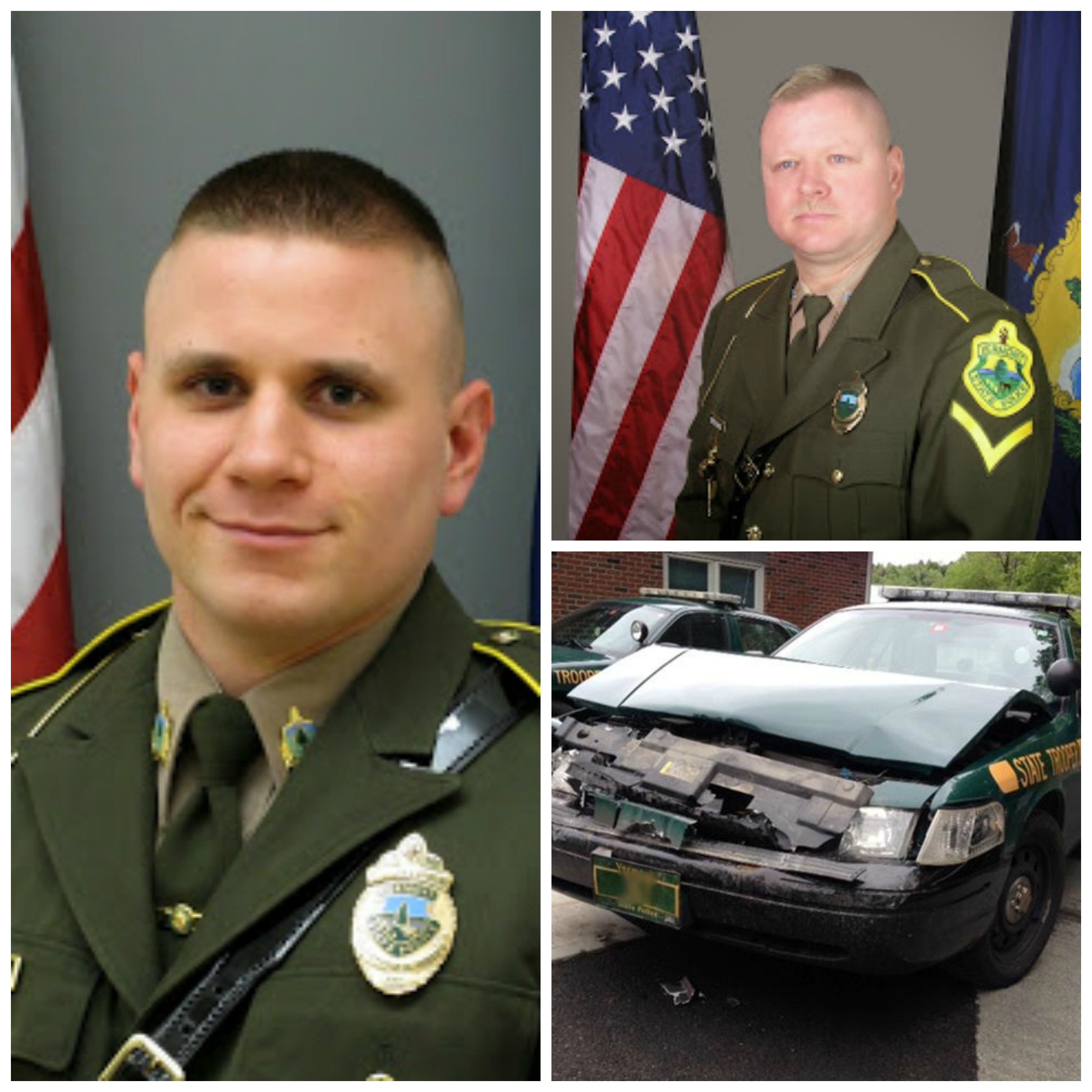 Trooper Seth Loomis (left) and Sergeant Denis Girouard (right) along with the police cruiser that Eric Jackson is accused of ramming into, causing the troopers to open fire on Jackson.
BARTON — The troopers involved in the recent shooting of a Lyndonville man in Barton early Wednesday morning have been identified as Sergeant Denis Girouard and Trooper Seth Loomis.
Sgt. Girouard, age 43, was hired by the Vermont State Police in July 2000 and is currently assigned as a patrol commander at the St. Johnsbury Barracks.
Trooper Loomis, age 26, was hired by the Vermont State Police in November 2011 and is currently assigned as a Trooper First Class at the St. Johnsbury Barracks.
Both members remain on administrative leave, with pay.
The suspect, Eric Jackson, age 27, remains at Dartmouth-Hitchcock Medical Center (DHMC), where he is listed in stable condition and receiving treatment. He is in the custody of the Vermont Department of Corrections while being treated at the hospital.
He will be charged in Caledonia County when he returns to Vermont, as the incident originated in that county.
The initial investigation has revealed that Jackson may have been involved in several vehicle thefts and burglaries prior to the incident. Authorities are also saying it's possible that Jackson was not working alone.
The shooting occurred at approximately 2:08 a.m. after Jackson allegedly stole a vehicle from a residence on US Route 5 in Sutton, and fled the scene at a high rate of speed. After a lengthy pursuit, Jackson momentarily stopped on Burton Hill Road in Barton, changed directions by quickly accelerating in reverse, and repeatedly rammed two state police cruisers causing extensive damage and putting the troopers in fear of their safety.
Both troopers discharged their weapons in response to the on-going threat.
Detectives will continue to thoroughly investigate the incident, and anyone with information regarding the case is encouraged to call the Vermont State Police at the St. Johnsbury Barracks 802-748-3111.
Once the investigation into the shooting incident is completed the case will be reviewed independently by both the Vermont Attorney General's Office and the Orleans County State's Attorney's Office.