All photos by Tanya Mueller, unless otherwise noted.
DERBY — The Church of God and the Elks Lodge in Derby both hosted community dinners Thanksgiving Day, making it a special holiday for many in the area. Both offered turkey dinner for anyone who wished to eat with the community, and both offered take out packages as well.
The day before Thanksgiving, The Church of God delivered 145 meals throughout the area. Hayes Ford of Newport donated the 13 turkeys which were prepared by church members. The community dinner that they hosted on Thanksgiving Day was thanks to Julie Chase, who not only had the idea for the dinner, but cooked a turkey that she raised herself. About 50 people came out Thursday for the meal.
"This is the first time that we have hosted a community meal on Thanksgiving Day," Pastor Laurence Wall of Church of God said. "It was a good turnout, and it's all thanks to Julie."
The Elks Lodge served 225 people who came out Thanksgiving Day for the community dinner. They also served 300 take out meals throughout the day. This was the eighth year that the Elks Lodge in Derby has hosted the dinner.
Frances Dewing cooked the majority of the food, and the North Country High School Culinary Arts Program donated 69 pies for dessert. The potatoes served were thanks to George Weller of Stanstead.
"George did all the potatoes," Ms. Dewing said. "Tuesday night they had a potato peeling party at his house, where they peeled all the potatoes. They cooked them this morning, and transported them here."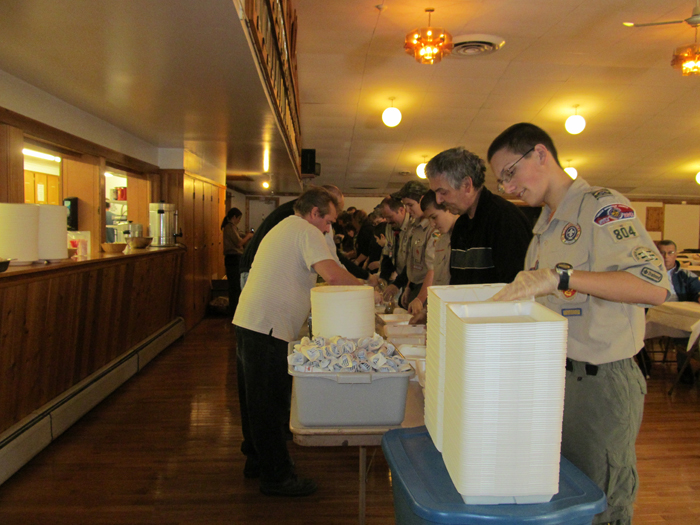 The event was awarded a $2,000 Beacon Grant from the Elks National Foundation which paid for most of the food. With community donations in advance, both cash and in-kind, they raised a total of $3,000 before dinner was even served Thursday.
The money raised goes to the food and fuel fund for the Northeastern Vermont Area Agency on Aging
"It will be a Thanksgiving that continues throughout the season," Lisa Viles, the executive director of the Northeastern Vermont Area Agency on Aging, said following Thursday's event.
Northeastern Vermont Area Agency on Aging works to assist individuals who are in crisis for food and fuel throughout the year. They take donations to support their work online at NEKseniors.Org