All photos by Manfried Starhemberg
NEWPORT — The fire which blazed Thursday afternoon on Central Street in Newport left three families without a home. The apartment building, owned by Memphremagog Rentals, was completely destroyed. Nearby homes were evacuated by the Newport City Fire Department and Police Department due to the thick, noxious smoke which filled the surrounding area.
The fire broke out around 1 p.m. The Derby Line Fire Department was called in to help battle the fire which burned well into Thursday evening.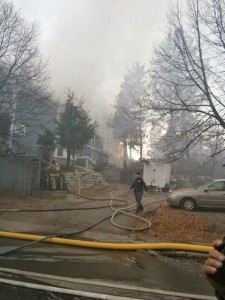 As of Thursday night, not much is known as to the cause of the fire, however, a cause and origin investigation will be done. There were no injuries. All residents who were inside the building at the time made it out safely.