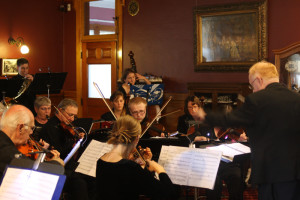 NEWPORT — The Newport Area Community Orchestra played their annual Fall concert Saturday afternoon inside the assembly room at the Goodrich Memorial Library. Around 75 people came out to hear the orchestra play selections and excerpts from Mozart, Mussorgsky, Brahms, and Witt.
With the annual Fall concert behind them, and all the hard work leading up to Saturday's performance over, the Newport Area Community Orchestra has a chance to reflect on the journey the group has taken. The orchestra, now in its third season, started out as a quartet led by conductor Ken Michelli. They now number 30 musicians, 23 of which played on Saturday.
As the orchestra continues to grow in numbers, so does its audience. Saturday's performance filled the room to capacity.
"I was real pleased with the audience size," Ken Michelli said following the concert. "This is the largest crowd we've had here at the library."
The orchestra played superbly. Marc Semprebon, who introduced each piece, provided both insight and entertainment as he gave a brief history of each work before its performance. His often humorous, and thought provoking introductions made for a more intimate experience.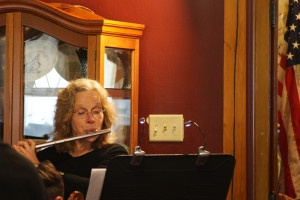 Heather Webster, who played a flute solo during the first piece of the night, Andante for Flute by Mozart, offered advise on how to face the nervousness of being in the spotlight.
"Nerves are just a negative way we look at excitement," she says. "It was a good experience for me because I never played a solo like that in front of people, so I actually had to seek out a flute teacher and work hard on it."
Speaking with the musicians afterward, they overwhelmingly felt that the final piece of the night, Symphony in C by Witt, was their best.
"We put a lot of effort into that last piece. It was our longest, so we had a lot of pages to flip through. We had to concentrate to stay together and in time," violinist Nathaniel Wendt said.
"I loved that last movement that we played. It was powerful, and a nice way to end," Ms. Webster said.
Michelli, who also viewed the final movement to be the strongest, was proud of the way the group has the ability to rise to the occasion when putting on a concert.
"It came together quite well I think. It usually does. We just work that way," he said.
The group is featured in this weeks State of the Arts section of Seven Days. To see a video of Saturday's concert, click here.