It's a simple, two step process. You have to grind the apples somehow, and then squeeze the heck out of them. Step two requires a tremendous amount of force, and step one requires that something sharp be continuously moving as the apples are fed through.
It should come as no surprise that all you would have to do is search YouTube for "homemade apple grinder," or "homemade cider press," to see just how incredibly dangerous the whole process can be when someone tries to build their own contraption to accomplish these two steps.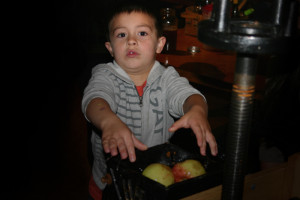 Although there are ways to get 'er done with an electric drill and a 5 ton bottle jack, luckily for everyone who came out Friday night to the new heated lodge at the Coutts-Moriarty Camp in Derby, there was a much more elegant, and much safer machine on hand. It was so safe in fact, even the kids took turns running it. However, a few needed to be reminded not to put their hands in the grinder.
With minimal effort, the cider was flowing.
Around 50 people came out for the free community event which was organized by Jason Brueck of the Coutts-Moriarty Camp. It was an eclectic mix of people, music, and apples, and it was just the type of event that Mr. Brueck had in mind while the new lodge was being built.
"One of our big goals is to be a community resource, and to have lots of different people from the community come out tonight was great," Mr. Brueck said.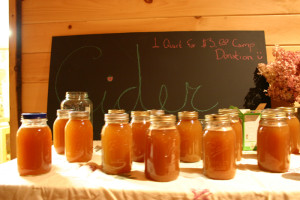 Guests were encouraged to bring their own apples to run through the machine, and make their own cider. Many, like Holly Spencer from Derby, came with buckets filled with apples they had collected from all over town.
"I got my apples from somebody I know who has a small orchard in Morgan, and some also came from North Troy," Ms. Spencer said, proudly displaying her mason jars filled with the amber colored liquid.
If you didn't have any apples to press, a $3 donation got you a quart of cider to take home.
Members of the Plymouth State University Choir, featuring North Country graduates Hannah Chambers and Kyle Quirion, put on the short concert that followed the cider pressing. Those who came out Friday night were treated to sounds that ranged from solo saxophone, to a capella music. The concert concluded with a jazz combo playing Thelonious Monk.
The musicians, who are Music Education students, sat through a day of classes that ended at 4 p.m., and a two hour drive from New Hampshire, in order to put on the concert.
"The kids all had fun, and there was even a couple of dogs, so we're really pleased with the way the night turned out," Jason Brueck said after the event.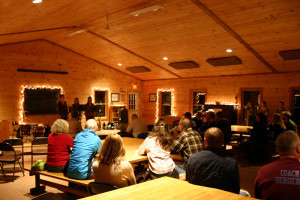 The people at the Coutts-Moriarty Camp are settling into their new 80-by-40 foot Education Lodge and Hall. The facility can hold up to 80 guests.
"This is only the first winter we've been up and running with this new heated building, so now that we're able to have year round events, we're pretty excited." Mr. Brueck said.
For more information on the Coutts-Moriarty Camp, visit them on the web, and to see the proper way to make cider, have a look at the video from Friday's event below.