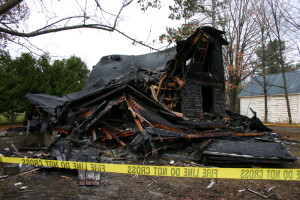 DERBY LINE — The fire which destroyed a vacant house on Highland Avenue in Derby Line Tuesday evening, left one firefighter injured.
Derby Line firefighter Tanner Jacobs was taken from the home on a stretcher and rushed to North Country Hospital.
"The building collapsed on one side, and trapped him inside. It pinned his legs down," a fire investigator said on site Wednesday morning.
"He's fine. He went to the hospital but was released. It was just a bumps and bruises type of thing," he went on to say.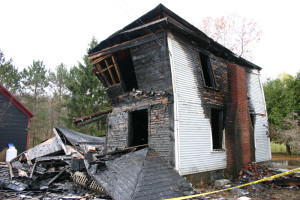 At about 8 p.m. Derby Line firefighters arrived on the scene. While flames blasted out of the roof, back up came from across the boarder, with members from the Stanstead, Quebec, department helping to contain the blaze.
The house belonged to Dale Bennett, who was having the house renovated for sale. However, as of Tuesday night when the fire started, it was still vacant. A few residents of Highland Avenue described the house as extremely old, perhaps one of the oldest in the village.
Neighbors gathered around to watch the fire, and a few talked about the possibility of arson, based on witnessing the way the fire so quickly engulfed the home.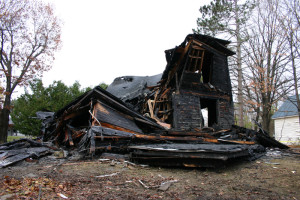 Wednesday morning, when asked, one of the fire investigators confirmed that it was being investigated, but that arson is not always suspected based on how quickly a fire spreads.
"Right now we're waiting on an excavator to get a good look at things, but when you run into a fire that has a lot of ventilation, it can seem as though it's an accelerated fire, but that's not always the case," the fire investigator said.
As of noon Wednesday, Boarder Patrol was on site, along with the fire investigators, keeping watch on the destroyed home.